The general findings of the diver survey are as follows:
1. Volumes of waste fish were found on seabed at all berths where fish were landed in recent months.
2. The waste fish found were often randomly distributed and found in low densities (typically 0.5 to 5 fish per square metre).
3. At all berths occasional small scale accumulations or patches (rarely exceeding 50 square metres) were found where there was coverage of the bed by waste fish.
4. No large scale accumulations were found.
5. Quantities found were broadly proportional to which berths were used most for landings of pelagic fish.
6. Fish species found were almost exclusively pelagic species with the vast majority being mackerel.
7. Location of fish at a particular berth seemed to be partly determined by bottom profile with largest accumulations in local depressions and in areas where water disturbance was least eg where propeller action was likely to be least or bed clearance under hulls was greatest.
8. At most berths fish were found in highest concentrations immediately alongside berthing faces except at south quay of new pier where heaviest accumulations were found at 15-30 metres out from the berth face. ( see attached graph of average densities at the berths).
9. Some of the fish found were in advanced state of decay - possibly 2-3 months old.

Samples of the waste fish were taken to surface for species identification by SFPA.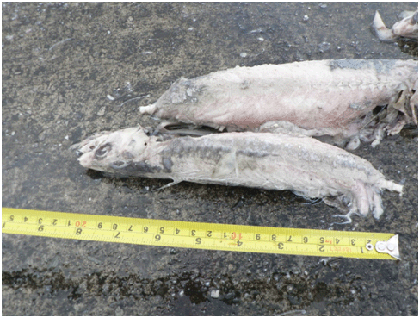 Examples of decayed mackerel recovered by diver from seabed 16/3/13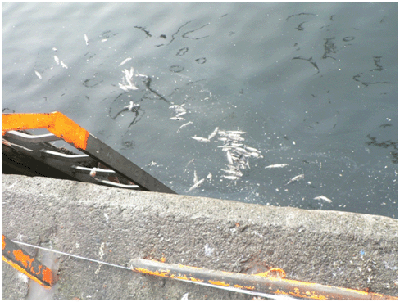 Example of waste fish carcases and parts floating on water surface at landing pier (probably
resuspended by trawler boat movement nearby) 14/3/13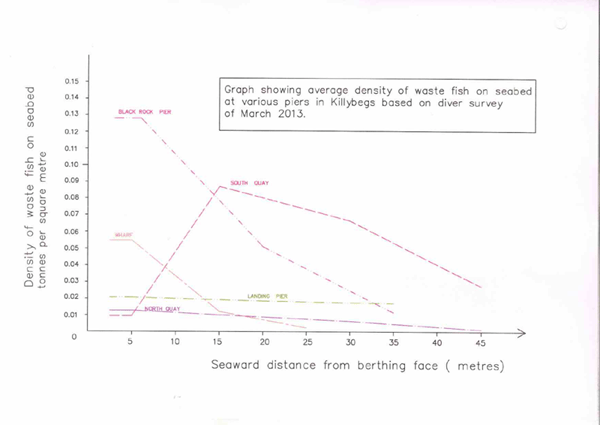 DENSITY OF WASTE FISH ON THE SEABED